June 19, 2014
For Veterans: The Open Burn Pit Registry
In 2013, the president signed into law a bill I wrote to create a registry of military service members and veterans who were exposed to toxic chemicals and fumes from open-air burn pits in Iraq and Afghanistan.
I have been working closely with the U.S. Department of Veterans Affairs (VA) to get the registry up and running, and to ensure it meets the needs of our veterans.
Today I'm pleased to report the Airborne Hazards and Open Burn Pit Registry has been launched and I'm encouraging all eligible service men and women who served in Iraq, Afghanistan and Southwest Asia to sign up.
Click here to access the burn pit registry.
The registry will help the VA monitor veterans' health, keep them informed about studies and treatments, and improve programs to help veterans who are concerned that they may have been exposed to toxic chemicals while they were deployed.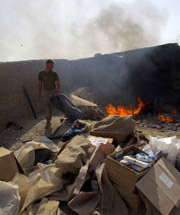 The registry is similar to those created for Agent Orange and Gulf War illnesses, and it is open to eligible veterans who may have been exposed to airborne hazards in areas across Southwest Asia.
I was proud to work with Senator Bob Corker (R-Tenn.) and congressional leaders in both parties to get the bill creating the registry signed into law, and I am thankful for the advocacy of our military families who inspired the original bill we wrote.
I became an advocate for creating a burn pit registry after meeting Albuquerque veteran MSgt. Jessey Baca and his wife Maria. MSgt. Baca has faced a multitude of health problems believed to be associated with burn pits and has become a leading advocate for other service members who may have been exposed.
 For an overview of our efforts, watch this video and interview with the Bacas, or click below for a timeline of our work to pass the Open Burn Pits Registry Act.
---
---
Next Article